HOME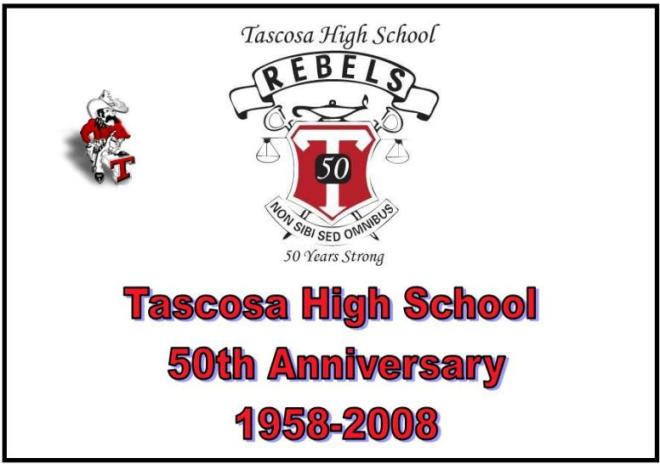 Tascosa '59: Face Forward
Written by Dale Griffith, 2009
Earlier this year, a flight that I was on from Phoenix to Chicago did not dip its wing over Albuquerque and head northeastward as that flight pattern usually dictates , but instead continued eastward until reaching Amarillo, then lined up for the straight shot to Chicago. I gazed out the window at my hometown 36,000 ft. below, bathed in the late afternoon sunlight.

Fifty years ago, I reflected, neither I nor any of my classmates had ever had this view of our shared reality inasmuch as the first Boeing 707 had flown only one year earlier, and it wasn't until 1964 that jet travel was launched from Amarillo. How could we have anticipated the perspective we would share fifty years later? Tascosa was a new beginning. Our classmates at AHS had their faces looking backward across a rich heritage; we were face forward.

I'm nostalgic still about that smaller world we shared through our childhood, terminating in high-school graduation. Polk Street might just as well have been New York's Fifth Avenue, Chicago's Magnificent Mile, or Hollywood's Rodeo Drive. The Paramount was our movie palace (we even dressed up to go to the movies!!); the Santa Fe building, our architectural-significant skyscraper; the Herring Hotel, our claim to significant arrivals and departures.

When we left town, we headed out on Route 66, boarded the Grand Canyon Limited, the Texas Zephyr, or a TWA Constellation. We couldn't yet soar to 36,000 ft. at 600 miles per hour, nor could we take leave on I-40. Our first expressway ran only as far as Canyon.

Buddy Holly was a recent loss; we had not yet anticipated the Beatles. When we talked about war, we envisioned heroic WWII. But Vietnam was just ahead, and our conversation would be reshaped.

There were but three sizeable, well-run banks in town-Amarillo National, First National, and American. The banking disasters of the Great Depression were stories we heard. How could we have anticipated the financial crisis that looms over our 50th reunion?

Television was less than ten years old in Amarillo. We still caught the news on the movie screens. Bugs Bunny, Elmer Fudd, the Road Runner were viewed on the big screen too, not Saturday morning television. We mailed letters and listened to the radio incessantly. Now we're planning a 50th reunion on line, and will arrive with our earphones plugged in and reading from our Kindles.

We wore flattops, never anticipating balding. The girls' long skirts were soon to be hacked off above the knees in the '60's and never to come all the way back down. And no bobby sox ever, ever again.

Our high school was purely Caucasian middle-class. How could we have anticipated its diversified demographic and racial profile of 2009? Dwight Eisenhower was president; how could we have anticipated Barack Obama fifty years later?

Nostalgic, yes. But eagerness and excitement for all that was to follow. Face forward. We were the last of a "dying breed," shall we say, and the first of a newly defined generation about to break out on the scene. We were the god Janus, opening the doors of a new school that year onto a brave new world. Little could we have known. How very little.
HOME